How to optimize your website for Bing

Are you looking for some SEO tips to optimize your website for Bing? Read this Bing optimization guide to learn how to tune your website to get the best traffic from Bing.


In last few years, webmasters have started giving more importance for Bing optimization than any other time in the past. There was a time when many webmasters completely ignored Bing search engine and went completely after Google. Many webmasters discovered very innovative ways to spam Google search. The result was terrible results in Google.

While Google was busy fighting spammers, Bing was silently improving its search algorithms without much distractions. In the past and even now, it was relatively difficult to influence Bing search results through spammy methods, which usually works in Google.

Let us take a look at how to optimize your website for Bing.


Submit your site to Bing Webmaster tools

Webmaster tools is your interface with the Bing search engine. Every website should be submitted to Bing webmaster tools (and all other webmaster tools offered by other search engines) and should be configured fully to take advantage of all opportunities given by the search engine.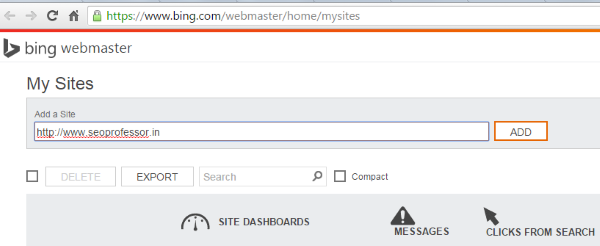 Submitting your website is a straight forward process. Once you add the site, you need to verify the ownership of the site for Bing to make sure you are the real owner of the site before they show you sensitive information about your website. There are few different option to verify the ownership. The easiest approach is to place a meta tag generated from the control panel to the header section of your site. Another option is to upload a given file to the root folder of your website. Some templates may not allow placing custom tags in the header. And some hosts may not allow placing custom files to the root domain. In such cases, you may need to go through the more difficult process of modifying your CNAME records with your domain registrar.


Submit a sitemap

Every website should have a sitemap file and the site map should be submitted to the webmaster tools. Even though Bing bot can spider your website and find all the pages, the sitemap will make this process easier and faster. If you have a sitemap with links to all your articles and pages, Bing can easily find all the pages and index them faster than normal.


Submit URLs to Bing

Even though the sitemaps are helpful to index pages faster and more efficiently, there may be still some files not indexed or are changed recently which are not yet picked up by Bing. You can manually submit those links using the "Submit Urls" feature found under "Configure my site" link on the left side.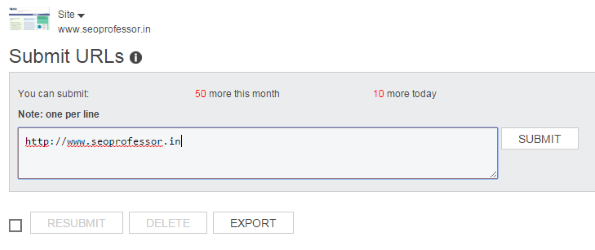 Connect your social media channels

Most of the websites have social medial channels associated with it. Connect your webmaster account with your social media channels to help Bing understand your site's presence in social media. It will help the search engine to credit your social media engagement for the benefit of your site's ranking in Bing search results.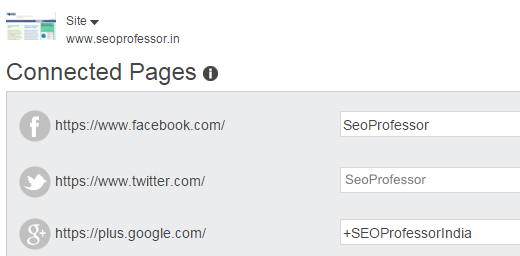 Check SEO reports

Bing provides an SEO report, which is in beta stage now, to identify potential problems in your website that may be preventing it from getting the best out of Bing. This is one of the best places to find ways to optimize your website for Bing search. I always thought my websites are well tuned but I was surprised to find what I am missing when I looked at the Bing reports.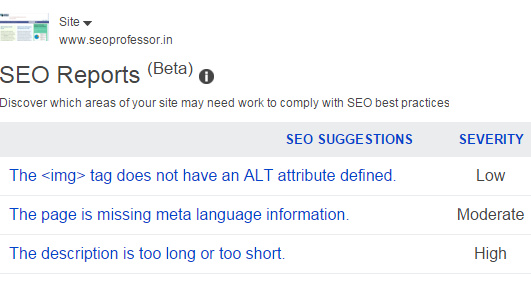 Submit your business in Bing Places for Business

Places for Business is an excellent opportunity if your business offers services in a locality through a physical store or office. You can submit your business details and list them under appropriate category along with the location data. When potential customers search for the business of your type, Bing could show your business along with the location details. If they are searching from GPS enabled devices, Bing can even guide them with driving directions to your office. For the businesses that offer services in a physical location, this is a great opportunity to get traffic without any cost.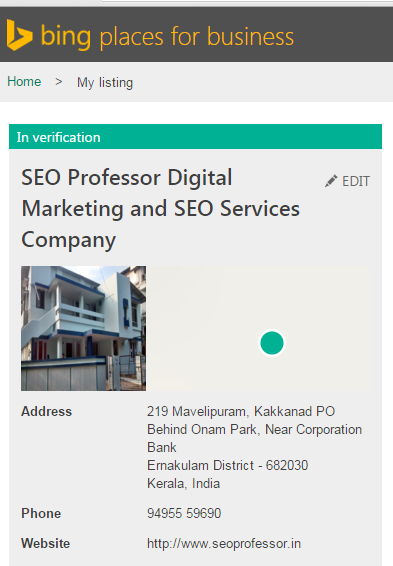 One of the best advantages in submitting to "Places for Business" is, your office address and a map will be displayed in search results when people specifically search for your type of business in your location.


Summary

Bing Webmaster Tools is one of your best tools to optimize your website for this search engine. In addition to configuring your website in webmaster tools, you must optimize your content, especially the title, meta tags and the body of the articles. "Content is King" is an old saying, but that is still relevant. If you don't have impressive content, then everything else you do will serve no purpose. So, once you configure your website in the webmaster tools, focus on developing useful content for your website.